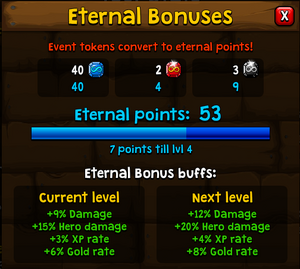 Eternal Bonuses are gained by earning tokens during Events, they can currently be earned two ways; event participation and purchasing the premium Dragon Packs.
You do not need to spend the tokens, only the total collected is needed to reach new milestones.
During events, tokens can be traded in for a chance to earn special Event Items.
| Bonus Level | Eternal Points Required | Auto/Click Damage Increase | Hero Damage Increase | XP Rate | Gold Rate |
| --- | --- | --- | --- | --- | --- |
| 1 | 10 | 3% | 5% | 1% | 2% |
| 2 | 20 | 6% | 10% | 2% | 4% |
| 3 | 40 | 9% | 15% | 3% | 6% |
| 4 | 60 | 12% | 20% | 4% | 8% |
| 5 | 80 | 15% | 25% | 5% | 10% |
| 6 | 100 | 18% | 30% | 6% | 12% |
| 7 | 120 | 21% | 35% | 7% | 14% |
| 8 | 140 | 24% | 40% | 8% | 16% |
| 9 | 160 | 27% | 45% | 9% | 18% |
| 10 | 180 | 30% | 50% | 10% | 20% |