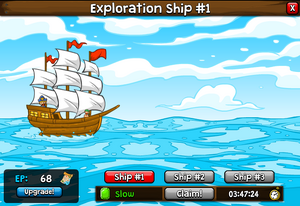 Explorations are a time based activity that rewards the player with Gold, Gems or Elixir. After every exploration, the player is awarded Exploration Points

(EP) which can be used to increase the amount of treasure gained, decrease exploration timers and unlock more ships.
Exploration timers can be further reduced by using Achievement Points.


Type
2h
4h
8h
EP
Reward
EP
Reward
EP
Reward
Gold
3
Varies
6
Varies
Gems
5
2
10
4
Elixir
10
2
Exploration Upgrades
Increases the amount of resources gained per Exploration, including more

This upgrade stacks additively with equipment bonuses and the Achievement Upgrades.
| Level | Cost to Upgrade | Effect |
| --- | --- | --- |
| 1 | 10 | +2% Treasure Chance |
| 2 | 20 | +4% Treasure Chance |
| 3 | 30 | +6% Treasure Chance |
| 4 | 40 | +8% Treasure Chance |
| 5 | 50 | +10% Treasure Chance |
| 6 | 60 | +12% Treasure Chance |
| 7 | 70 | +14% Treasure Chance |
| 8 | 80 | +16% Treasure Chance |
| 9 | 90 | +18% Treasure Chance |
| 10 | 100 | +20% Treasure Chance |
| 11 | 110 | +22% Treasure Chance |
| 12 | 120 | +24% Treasure Chance |
| 13 | 130 | +26% Treasure Chance |
| 14 | 140 | +28% Treasure Chance |
| 15 | 150 | +30% Treasure Chance |
| 16 | 160 | +32% Treasure Chance |
| 17 | 170 | +34% Treasure Chance |
| 18 | 180 | +36% Treasure Chance |
| 19 | 190 | +38% Treasure Chance |
| 20 | 200 | +40% Treasure Chance |
| 21 | 210 | +42% Treasure Chance |
| 22 | 220 | +44% Treasure Chance |
| 23 | 230 | +46% Treasure Chance |
| 24 | 240 | +48% Treasure Chance |
| 25 | 250 | +50% Treasure Chance |
| 26 | 260 | +52% Treasure Chance |
| 27 | 270 | +54% Treasure Chance |
| 28 | 280 | +56% Treasure Chance |
| 29 | 290 | +58% Treasure Chance |
| 30 | 300 | +60% Treasure Chance |
| 31 | 310 | +62% Treasure Chance |
| 32 | 320 | +64% Treasure Chance |
| 33 | 330 | +66% Treasure Chance |
| 34 | 340 | +68% Treasure Chance |
| 35 | 350 | +70% Treasure Chance |
| 36 | 360 | +72% Treasure Chance |
| 37 | 370 | +74% Treasure Chance |
| 38 | 380 | +76% Treasure Chance |
| 39 | 390 | +78% Treasure Chance |
| 40 | 400 | +80% Treasure Chance |
| 41 | 410 | +82% Treasure Chance |
| 42 | 420 | +84% Treasure Chance |
| 43 | 430 | +86% Treasure Chance |
| 44 | 440 | +88% Treasure Chance |
| 45 | 450 | +90% Treasure Chance |
| 46 | 460 | +92% Treasure Chance |
| 47 | 470 | +94% Treasure Chance |
| 48 | 480 | +96% Treasure Chance |
| 49 | 490 | +98% Treasure Chance |
| 50 | 500 | +100% Treasure Chance |
| Total | 12,010 | Total |
| MAX | MAX | MAX |
Decreases the amount of time needed per Exploration
| Level | Cost to Upgrade | Effect |
| --- | --- | --- |
| 1 | 10 | -1% Reduction |
| 2 | 20 | -2% Reduction |
| 3 | 30 | -3% Reduction |
| 4 | 40 | -4% Reduction |
| 5 | 50 | -5% Reduction |
| 6 | 60 | -5.5% Reduction |
| 7 | 70 | -6% Reduction |
| 8 | 80 | -6.5% Reduction |
| 9 | 90 | -7% Reduction |
| 10 | 100 | -7.5% Reduction |
| 11 | 110 | -7.75% Reduction |
| 12 | 120 | -8% Reduction |
| 13 | 130 | -8.25% Reduction |
| 14 | 140 | -8.5% Reduction |
| 15 | 150 | -8.75% Reduction |
| 16 | 160 | -9% Reduction |
| 17 | 170 | -9.25% Reduction |
| 18 | 180 | -9.5% Reduction |
| 19 | 190 | -9.75% Reduction |
| 20 | 200 | -10% Reduction |
| 21 | 210 | -10.25% Reduction |
| 22 | 220 | -10.5% Reduction |
| 23 | 230 | -10.75% Reduction |
| 24 | 240 | -11% Reduction |
| 25 | 250 | -11.25% Reduction |
| 26 | 260 | -11.5% Reduction |
| 27 | 270 | -11.75% Reduction |
| 28 | 280 | -12% Reduction |
| 29 | 290 | -12.25% Reduction |
| 30 | 300 | -12.5% Reduction |
| 31 | 310 | -12.75% Reduction |
| 32 | 320 | -13% Reduction |
| 33 | 330 | -13.25% Reduction |
| 34 | 340 | -13.5% Reduction |
| 35 | 350 | -13.75% Reduction |
| 36 | 360 | -14% Reduction |
| 37 | 370 | -14.25% Reduction |
| 38 | 380 | -14.5% Reduction |
| 39 | 390 | -14.75% Reduction |
| 40 | 400 | -15% Reduction |
| 41 | 410 | -15.25% Reduction |
| 42 | 420 | -15.5% Reduction |
| 43 | 430 | -15.75% Reduction |
| 44 | 440 | -16% Reduction |
| 45 | 450 | -16.25% Reduction |
| 46 | 460 | -16.5% Reduction |
| 47 | 470 | -16.75% Reduction |
| 48 | 480 | -17% Reduction |
| 49 | 490 | -17.25% Reduction |
| 50 | 500 | -17.5% Reduction |
| Total | 12,010 | Total |
| 51 | 510 | -17.75% Reduction |
| ~ | ~ | ~ |